Home » Fun, Interiror
10 Coolest Chair Designs
1 – Chair made out of antique radiators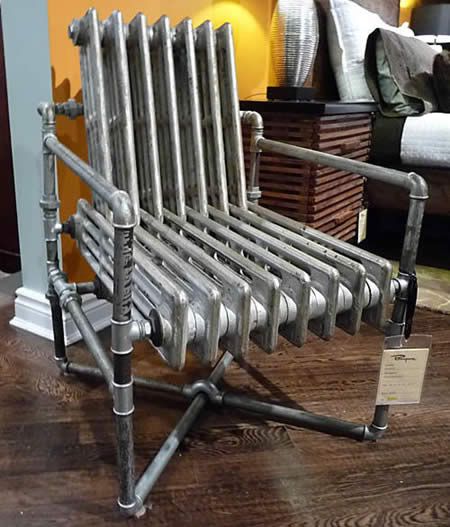 The radiator-chair a one-of-a-kind sculpture from Von Thiel and Co. at a shop in Toronto. At CDN$1,490, it's a little pricier than you might want to spend on a chair that probably won't be all that comfortable for protracted use but it's a better world that has this radiator-cum-chair in it.
2 – Amazing Folding Chair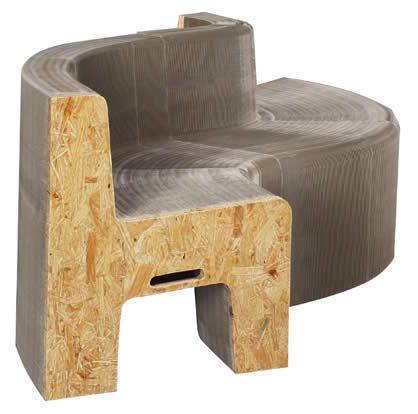 This chair designed by Chishen Chiu is known as FlexibleLove and is absolutely amazing. It is stretchable and is flexible enough to be formed into different shapes and arrangements
3 – Numeric Keypad Chairs
We have no idea what the story is behind this set of numeric keypad/calculator chairs is, but we do know we think it's super cool! You'd need a pretty big living room to pull this off, since they really look their best when they're all together in their "official" arrangement.
4 – The Chair That's a Cube
Heinz Julen's cube chair has a very prosaic name. It's called Cube Chair. Made of wood, aluminum and leather, the (60 x 60 cm when closed and 83 x 70 cm when opened) chair will set you back around $3,750.
5 – The World's First Cantilevered Chair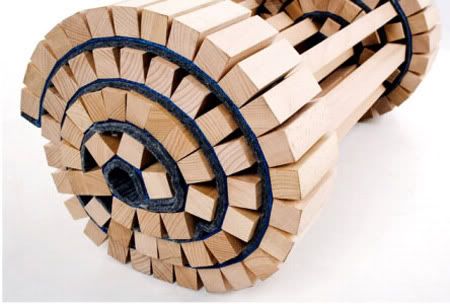 The Miesrolo Chair by Uros Vitas is made of wood sections strategically placed on synthetic elastomer. The result is a cantilevered chair–that rolls up like sushi–which possesses the strength to support a grown human being.
6 – The Active Sitting Chair
The Swopper is intended to help strengthen your back and abs, relieve lower back pain, and promote better posture as well as enhance circulation, spinal fluidity, and flexibility. That's all well and good, but we like the idea of being able to bounce, sway, and tilt around in the chair like an idiot all day.
7 – Chair Suitcase
Rather than cramming your empty suitcase into the closet, why not turn it into a functional chair? That's exactly how this nifty transforming suitcase works
8 – Serial Pop Drinks Rejoice
Hey kids, are you a serial pop drinker? Sure recycling is good but lets say for some oddball reason you collect bottles. As long as the neck is a standard size, and you collect 16 of them, you can make yourself a little stool or table. Chairs & Toys is really for children but we know a few adults that would try and pass this off next to their Herman Miller furniture.
9 – The Sheep Chair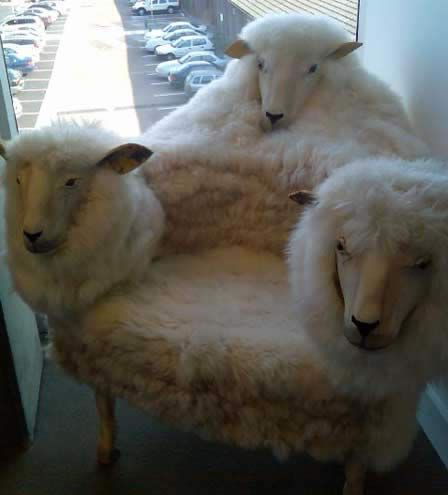 Well, this chair is definitely one of the creepier pieces of furniture we've ever saw.
Not sure of the chair's origins,but there must be a demand for it somewhere.
If you have any information about the chair, please leave a message
Update: This sheep chair originates from NIDA, national institute of dramatic art, in NSW Australia! A prop making student has made this for a furniture making project. Thanks Rachel
10 – Frank Schreiner's Shopping Cart Chair.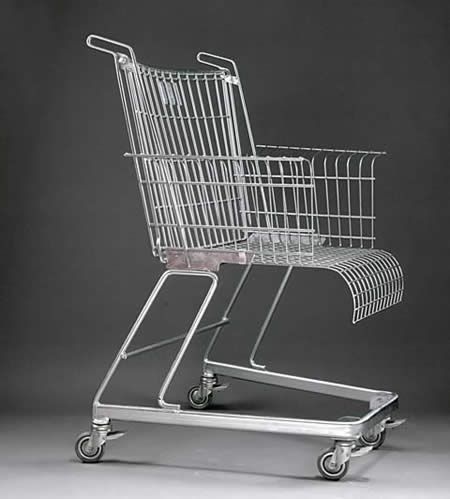 This chair, titled "Consumer's Rest" was made in 1983 by Frank Scheiner who heads the Stiletto Studios in West Berlin.
"SEVEN years ago, when I took my mother to a design shop in Berlin, she looked at all the wire-mesh furniture and said it reminded her of shopping carts," recalled Frank Schreiner, a designer who heads Stiletto Studios in West Berlin. "That's how I came up with the idea."